Iguatemi | 4Q20 Operational data preview
Iguatemi empresa de shopping centers s/a
4Q20 Operational data preview
São Paulo, January 22, 2021 - Iguatemi Empresa de Shopping Centers SA ("Iguatemi" or "Company") [B3: IGTA3], one of the largest full-service companies in the shopping center industry in Brazil, announces a preview of the Company's operational data for the 4Q20.
In 4Q20, we saw local authorities further ease operating restrictions previously imposed on our malls, making our capacity utilization – number of hours operating during the pandemic divided by the number of hours operating under a normalized regime – increase significantly, going from 51.3% in 3Q20 to 91.1% in 4Q20.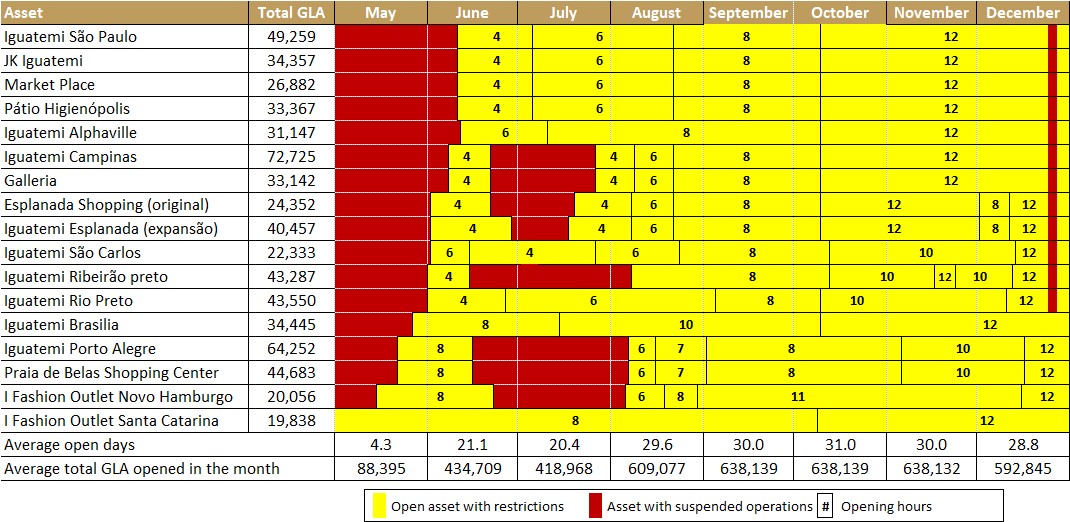 Following the same trend, the sales continued to recover strongly, increasing from 57% in the 3Q20 to 86% in the 4Q20 versus the same periods of 2019, year of record sales in the months of Black Friday and Christmas.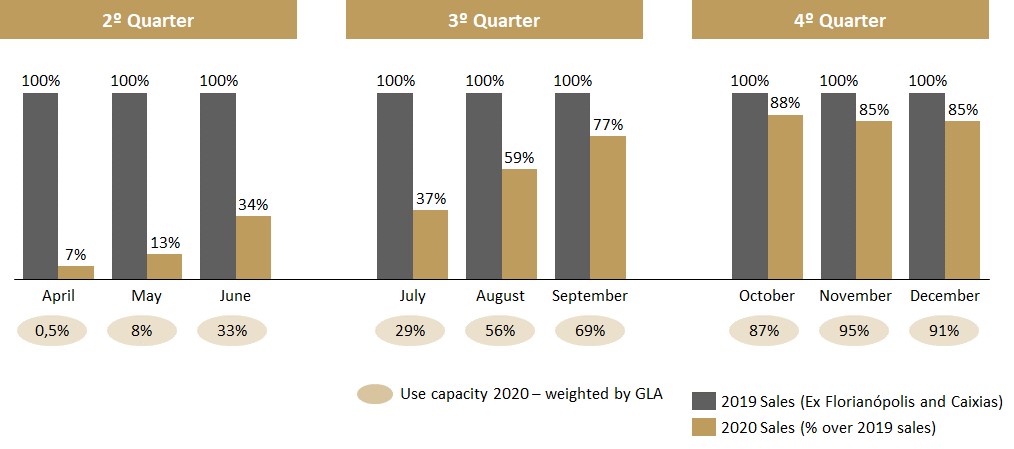 Total sales reached R$ 3.6 billion in the quarter, a drop of 14.4% versus 4Q19, while the same-store-sales (SSS) showed greater signs of recovery, decreasing 11.8% in the quarter.

It is important to note that even though operating hours in our malls were close to normal in 4Q20, there were still some retailers – such as food, entertainment and services – that suffered from more severe restrictions that ranged from operating 30% to 60% of their capacity.
As seen below, the segments that operated normally - such as Miscellaneous, Health & Beauty, Jewelry, and Apparel, Shoes, Leather Goods - had better sales performance than shown in our consolidated number, with sales dropping 5.6% versus 4Q19 and 8.3% versus 4Q19 respectively.

As sales figures improved in the quarter, we gradually withdrew rent discounts reaching a net invoice of 97.6% in 4Q20 versus 66.5% in 3Q20 (percentages versus same period of 2019), if we consider the installments from March rent charged in 4Q20, the net invoice was 108.8% in 4Q20. Despite the continued withdrawal of discounts, net delinquency dropped from 13.4% in 3Q20 to 9.3% in 4Q20 and occupancy cost from 14.4% in 3Q20 to 13.0% in 4Q20, if we exclude the installments from March rent charged in the quarter, the occupancy cost was 11.9% in 4Q20.
Most recently, we have seen a renewed interest by tenants in renting out our spaces, we believe backed by improving sales numbers in recent quarters and the beginning of the vaccination process. As it stands today, Iguatemi has the equivalent of 2.1% of its total GLA in signed contracts and another 0.6% of the total GLA in contracts in the final stages of signing, all of which with inauguration planned for the 1st semester of 2021.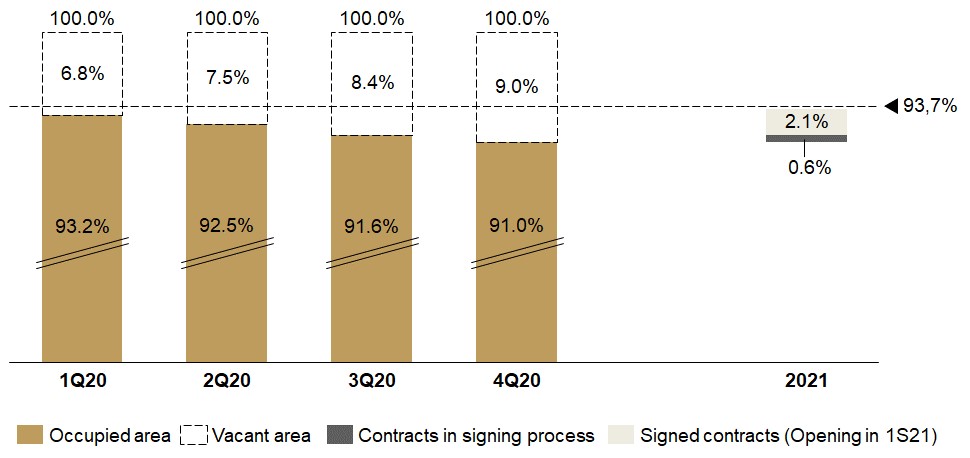 Cristina Anne Betts
CFO and Investor Relations Director
Iguatemi Empresa de Shoppings Centers S/A